This isn't necessarily the matchup that was supposed to happen -- if Patrick Crayton had caught that pass, the Cowboys would probably be the ones heading to subzero Green Bay for a rematch of the Ice Bowl -- but it did. Instead, the surprising Giants have ridden the #5 wild card seed all the way past the Buccaneers, the Cowboys, and now into Green Bay, where they battle the Packers for a trip to Super Bowl XLII. And since my internet is being slower than molasses today, it may take me a while to dig up all my numbers, but once we have them, I'll break down the matchup between the Lesser Brother and the Wisconsin Deity, better known as Eli Manning and Brett Favre.
Interesting sidenote time: I've had sort of a vested interest in the Giants since long before I ever followed football. When my sisters and I were kids, our dad's bedtime stories were set in New York with a vast cast of eccentric characters, and several of them played for the Giants. Buck Smith and Duke Novotny were the tackle and guard, Sparky Malone was the running back, Painless Johnson was a linebacker, and Joey (I wish I could remember his last name) was the cornerback. My dad having the fertile and demented imagination he does (hey, I had to get it from somewhere) they were all, um, interesting. Buck stuffed hamburgers in his helmet in case he got hungry on the field, Duke's idea of offseason training was to sit in front of the TV and eat M & M's by the fistful, Painless never spoke and ate wall telephones, Sparky ran backwards and dared the defensive "elephants" to catch him, and Joey sidelined as a fire-and-brimstone Harlem-church preacher. We used to laugh ourselves sick at them, and since I now go to school in NY anyway, I want the Giants to do it.
That diversion aside (and can you believe that Photobucket has still not opened? I am almost tempted to get on the arthritic desktop, it has to be faster) let's see about the specs.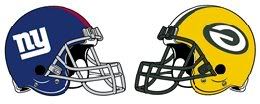 How The Giants Can Win:

1.
Like their underdog compatriots, the Chargers, the Giants have a strong running game -- 6'4/260 lb running back Brandon Jacobs and smaller, speedy Ahmad Bradshaw have both done well this year, and the Giants rank fourth in the NFL with an average of 134.2 rushing yards per game. The Packers rank fourteenth in run defense, allowing about 102.9 a game, so if the Giants can force that figure closer to what they normally rack up, they can find seams and score TDs without having to count on the Eli Manning Coming of Age continuing. Jacobs can use his size to gain yardage after the first hit, and Bradshaw has excellent speed.
2.
Speaking of which, the Giants will need the aforementioned Eli Manning Coming of Age to continue. Heckled and belabored for years for not being his talented older brother, Eli nonetheless has done very well in the playoffs. He's finished 32 of 45 passes for 348 yards, a 71.1 completion percentage, four TDs, no picks, and a 123.2 rating. Asking Eli to air it out downfield is a recipe for a pick such as the 20 he suffered on the season, since he doesn't have Peyton's arm and accuracy and probably never will. But he's done well with short routes, counting on receivers Amani Toomer and Plaxico Burress to gain the yards, and will have to continue to play at this level and generally getting the fickle New York sports fans to throw all their support behind him and have them excited for him to be the guy. The bugaboo: The cold. Last time Eli was playing in frigid temperatures, the Buffalo game that the Giants nonetheless won, he fumbled five times, losing two, and got sacked and intercepted twice. He will have to avoid that type of turnover at all costs, but if he can be the same player he was against Tampa Bay and Dallas, the Giants will have doubled their odds -- they can rely on both the pass and the run. Eli lost a favored target when TE Jeremy Shockey broke his leg, but Kevin Boss has stepped up in his place.
3.
Keep the Big Blue machine of the D well-stoked. The Giants have a fearsome defense that recorded 53 sacks while allowing only 28, and the combo of Osi Umenyiora and Michael Strahan can cause headaches for the Packers with their blitzing. (Earlier this season, the Giants actually sacked Eagles' QB McNabb a whopping 12 times, half of those by Umenyiora). They'll also need their battered corners to step up -- Sam Madison is out, Aaron Ross got shaken up last week in Dallas, and that leaves Gibril Wilson, Antonio Pierce, and Corey Webster to handle the picking duties. If the Giants lose any more cornerbacks, they practically won't have a secondary at all, and everyone knows how important a pass defense is against the ageless-wonder Favre.
4.
Not allow the Green Bay mystique to get into their heads. It'll be about zero degrees Fahrenheit, cold as the blazes, in the far north with a bunch of screaming Cheeseheads drowning out Eli's best attempts at calling the signals all day. Lambeau is a terrifying place for an opponent, especially if it feels like you just walked into a freezer, but the Giants are now 9-1 on the road, their only loss coming against the Cowboys in the early going. (They have a rather pedestrian home record at 3-5, and this makes sense to me -- who would want to play in front of a bunch of bitter New Jersey drunks?) They, like the Chargers, have all the momentum and confidence in the world, and need to see if it'll be enough against the #2-seed Packers. Then again, they polished off the #1 seed Cowboys last week, and have shown they can handle pressure.
5.
Not letting the Green Bay TV stations' plan to pull
Seinfeld
(Eli's favorite show) get into their heads. Just kidding.
How The Packers Can Win:

1.
Take advantage of the sizable advantage they have in terms of familiarity with the climate. Eli and Brett Favre are both from the South (Eli from New Orleans, Louisiana; Favre from Kiln, Mississippi, but Favre has played the vast majority of his career in the arctic climes of Lambeau and is well used to it). The Packers practiced with balls that had been put in the freezer, in order to best mimic the conditions come Sunday, and since they played in a blinding snowstorm against the Seahawks, they aren't going to let a little thing like a high of zero bother them. Once you factor in that a wind chill could make it feel like -35, we really are hitting Ice Bowl rematch here. The Giants are going to be cold. So will the Packers. Fortunately for the Pack's chances, they're used to it.
2.
Keep riding Brett Favre's spring of youth as far as it goes. The Pack ranked second only to the Patriots in terms of yards per game (370.7) and passing yards (270.9). 38-year-old cactus Favre put together another strong season -- 28 TD, 15 INT, 4,155 yards, a 95.7 rating (his highest since 2004, and third-highest of all time) and a 13-3 record in resuscitating the Packers, as happens every few years, to the NFC North title. Nobody's doubting that he's still perfectly able to win 'em when it counts, and since he may only be around for a few more years, the Pack is definitely motivated to help him go out on top.
3.
Turn Eli-Peyton Manning back into Eli Manning. Before the postseason, Eli was talented but inconsistent, showing flashes of promise and then turning back into a pumpkin. If the Eli that fumbles and gets picked on a regular basis shows back up, the Giants fans who have been cautiously accepting him will return to scorning him, and the Giants themselves will have another offseason to prepare. In short, if the Pack can force Eli to show that his late-season success has been fluky, all they have to do is give to Favre, stop Strahan and Umenyiora, and let him gunsling at will. The Pack rank fourth in points scored with 27.2 on average a game, and sixth in points allowed by permitting only 18.2. The Giants rank fourteenth in points scored with 23.3, and 17th in points allowed with 21.9. A great deal of this can be attributed to how their quarterbacks played in the regular season.
4.
Be careful when using the run game against the aforementioned tough Giants' D. Rookie RB Ryan Grant has been performing very well for the Pack, but the Giants hold opponents to 97.7 rush yards a game, good for eighth in the NFL, and the Pack run game languishes a distant 21st with 99.8. Like their compatriots the Patriots, the Packers rely heavily on the right arm of a very talented quarterback, and use the run game mainly to throw off the defense. However, since the Giants cornerbacks are so thin and dropping like flies, the Pack would be better off going passing-heavy and avoiding the still-formidable middle more than they strictly have to.
5.
Find out what Osi Umenyiora's favorite show is and cancel that too.
Who Wins?
Packers. I want the Giants to win, and will be rooting for them, but it's a pretty large leap to see Eli and Big Blue knocking off Brett and Giant Green on their own (frozen) tundra.